Although there are some functional similarities between email marketing software and debt collection software, they're fundamentally different. Email marketing software is a marketing tool that enables the creation, sending, and tracking of emails to a list of subscribers. It makes building email campaigns easier and allows seeing key metrics such as open and click-through rates.
Meanwhile, debt collection software is a debt recovery tool that helps companies reach out digitally and enable past-due customers to self-cure online without agent intervention. Unlike email marketing software, debt collection software does more than send and track email campaigns.
Below we explore in more detail what debt collection software is for and the main differences with email marketing software.
What's debt collection software for?
Debt collection software helps streamline the collections processes while improving operational efficiency. It helps improve days sales outstanding (DSO) without increasing collections staff.
The primary function of debt collections software is to recover past-due accounts flexibly, collect more money quickly, and automate collections processes cost-effectively.
With debt collection software, companies can dramatically decrease write-offs. In doing so, companies limit their use of traditional collection agencies, which are often expensive, inefficient, and damaging to the customer relationship. Collection agents can then handle riskier accounts, thus speeding up a successful debt recovery.
Companies use debt collection software to create digital outreach campaigns via email and track their progress. Past-due customers can access an easy-to-use payment portal to pay fully or make payment arrangements directly from the email reminder.
By automating tasks, sending digital reminders that enable customers to settle their past-due accounts directly minimizes the time spent on routine or unproductive tasks in accounts receivable (AR).
While email marketing software creates and automates email campaigns, it won't work for debt collection. We go over the differences between both platforms next.
How email marketing software won't work for debt collection
Email marketing software VS Debt collection software
While email marketing software has multiple uses for prospecting and lead generation for any business, debt collection software levels up the customer's repayment journey, particularly for companies in the financial services, telecommunications, and utility industries.
Unlike email marketing software, debt collection software is more of an add-on to a business's AR system. It integrates to reach out and cost-effectively collect from low-risk accounts, enabling past-due customers to self-cure conveniently.
Although both platforms are great instruments to sustain positive customer relationships and enhance customer experiences, the primary function of email marketing software is communicating, whereas debt collection software helps recover outstanding amounts from late-paying customers.
Email marketing and debt collection software scale to any volume with email builders, email scheduling features, and campaign automation tools to streamline operations. More advanced platforms will enable automation based on user behavior, increasing the likelihood of higher engagement due to added personalization.
This level of automation, however, isn't the only function of debt collection software. Lexop, for example, enables companies to collect from past-due customers directly from the email notification without requiring logging in to access the self-service platform. Customers can pay conveniently from any device and anywhere in the world significantly faster.
With all the different email marketing platforms available in the market, anyone can start an automated email campaign for free or based on a subscription fee. For example, e-commerce shops can send autoresponders whenever online store visitors leave the website without completing their orders.
Debt collection software is also subscription based, but it's not as freely available. Due to the payment capability and sensitive customer information, it best suits mid-to-large businesses with a dedicated AR team.


Choose debt collections software that brings results
There you have it. Email marketing software won't work for debt collection. The main thing to remember when comparing the two is that one is a marketing tool while the other is for debt recovery.
Email marketing software helps companies generate leads and communicate with prospects and customers. Debt collection software enables companies to digitally reach out to past-due customers and collect their late payments friction-free.
Lexop gives you everything you need to reach, incentivize, and effectively collect from past customers. Talk with an expert to learn how to optimize your collection strategy.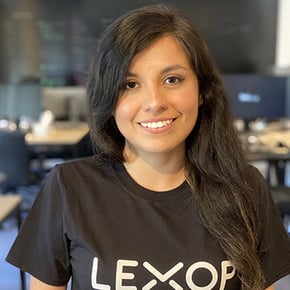 Paula Monroy
Paula is Communications Specialist at Lexop. With a formal background in urban planning and creative writing, Paula writes about pretty much anything.