Collection software enables companies to recover owed amounts faster and elevate the past-due customer experience by helping their customers settle their late bills with minimal effort.
Once decided to invest in debt management and collections systems, companies will experience an increased return on investment while reducing collection operating expenses.
Learn how collection software can be an advantageous move for your business.
3 key benefits of buying collection software
In a 2022 Lexop study, 35% of respondents who had a positive past-due customer experience attributed it to the simplicity of the payment process. Digitizing your recovery process can significantly improve your customer journey — cost-effectively!
Consider these three crucial benefits of buying collection software:
Accelerated debt recovery process
Comprehensive insights that convert
1 Faster outreach at scale
Subscription collection software allows you to contact past-due customers faster and more cost-effectively than a custom, in-house solution. Look for software that is compatible with your existing technology stack.
Save time and implementation resources with a SaaS solution that can be quickly deployed. Automate outreach by sending hyper-personalized payment reminders via email or text message that notifies your customers about their obligations and associated options.
2 Accelerated debt recovery process
Collect past-due amounts faster than ever with a customer journey optimized for payment. Offering a secure digital self-service platform leads to higher recovery rates, enabling customers to resolve past due accounts on their terms, conveniently and without agent intervention.
With Lexop, for example, past-due customers receive digital reminders to reconcile their accounts. They can access the self-service payment portal directly from their email and create a custom payment plan that suits their needs. Plus, customers can pay via their preferred method, including credit card, debit, or bank transfer.
By giving consumers the power to easily take control of their past-due accounts, you can recover more money faster and more efficiently.
3 Comprehensive insights that convert
Digitizing your recovery process provides actionable intelligence, so your company can improve its collection strategy while gaining insights into past-due customer behavior.
Automated collections will enable your company to track and analyze all customer interactions and compile behavioral data. You can use these insights to continuously optimize your outreach based on what has and hasn't worked and segment accordingly to pinpoint the best delivery times to boost engagement and conversion rates.
Collection software is the go-to solution to retain customers
A "reach, collect and analyze" approach to recovering past due accounts is a win-win solution for organizations and consumers. With the right digital tool, companies can significantly improve their Accounts Receivable cash flow while improving customer satisfaction with their collection methods.
Reach and empower past-due customers by implementing a digital collection software like Lexop. Learn how to get started today!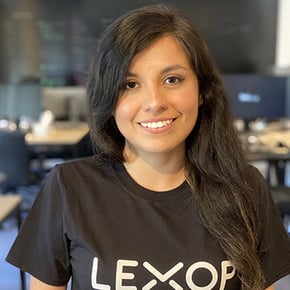 Paula Monroy
Paula is Communications Specialist at Lexop. With a formal background in urban planning and creative writing, Paula writes about pretty much anything.