Late payments have become a growing concern for organizations across industries in North America. Data suggests that up to 40% of household decision-makers skip payments because of ongoing money issues and other factors. According to a recent survey performed by Lexop, 38% of consumers are in collections because they didn't have the money to pay their bills. However, 29% of past-due customers said they simply forgot to pay their bills.
Digital reminders are an essential part of the collection process. Using collections software that supports them is an excellent way for companies to get in front of debtors and recover past-due accounts much faster. Here's all there is to know about this handy debt-collection tool and how it benefits all types of lenders.
What Is an Overdue Invoice Reminder?
Chasing down client payments is not always the most practical approach to debt collection. It takes a lot of time, resources, and effort and may negatively impact a company's relationship with its clients. After all, nobody enjoys being called out and pushed, especially when doing the right thing was always in their plans. Luckily, current technologies have given businesses across the globe more efficient ways to pursue past-due payments through collections software. Enter automated payment reminders.
In a nutshell, automated overdue invoice reminders are digital forms of communication that prompt customers to make timely payments. They can take many forms, from emails to texts and everything in between.
Why Switch to Automated Payment Reminders
One of the best ways to reduce the burden past-due payments cause in businesses is to prevent them from happening in the first place. Automated payment reminders allow companies to make the repayment process much smoother and reduce their agents' workload to focus on more productive activities. Additionally, they make it much easier for customers to pay their dues and stay on top of their accounts.
Calling customers to collect past-due balances is a tedious and largely unnecessary process that most customers do not appreciate. It requires enormous resources and effort from organizations and doesn't always yield the expected results. Automated payment reminders feel more respectful to the customer's space and boundaries, and often feel friendlier than cold calls.
How Automated Payment Reminders Work
Businesses can schedule and trigger timely notifications through the right collections software to help customers keep track of their payments. Additionally, they can determine which type of communication suits each client better and produces better results. For example, they can choose between sending customers emails, texts, and WhatsApp messages.
Debt collection software enables businesses to define how far in advance they should notify a particular client to give them enough time to prepare their payment. In addition, it allows them to send friendly nudges at set intervals for automated follow-up on overdue invoices.
Another perk of communicating with clients through automated reminders is that all digital communications can be interactive. Collectors can include links that allow users to quickly make payments from any device at the most convenient time without having to sign into any app or website.
Automated Payment Reminders Benefits for Users
Digital notifications for late payments simplify the debt-collection process and improve the customer experience. They empower debt collectors to:
Reach clients through their preferred communication channel.

A recent report revealed that 69% of past-due clients prefer digital contact methods like text and email instead of receiving calls and letters to collect their debt.
Allow users to use their preferred payment method. Not only can online reminders come in handy to let people know when their payments are due, but they also facilitate the payment process and allow them to use their preferred method.
Provide added security. Collections software helps businesses guarantee safety when making payments online. Knowing their sensitive data is secure will prompt clients to complete the payment process.
Reduce friction in the payment process. Simplifying how people can make payments is a strong motivator to do the right thing. By reducing barriers, companies can encourage their clients to pay their dues on time.


Automated reminders can be sent in a custom cadence using Lexop's Sequence features.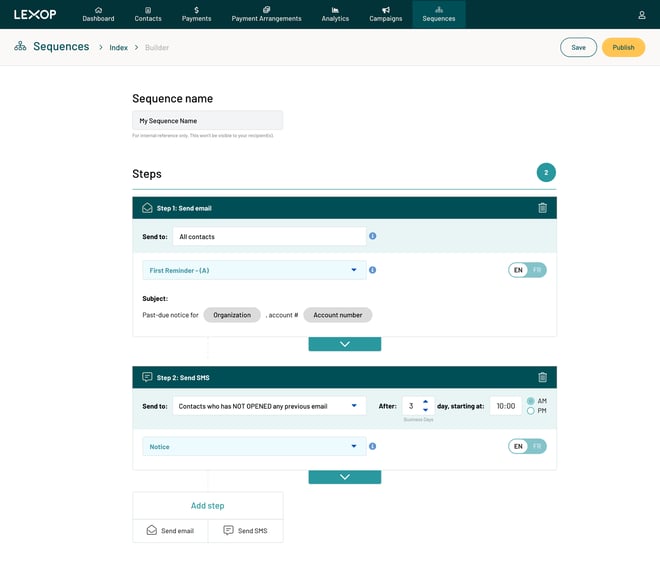 Automated Payment Notifications Benefit for Lenders
Automating this vital part of the debt-collection process allows businesses and organizations to lower costs. It also increases payment rates, reduces losses, and improves customer satisfaction. Good collections software will enable a company to get its money back much faster and increase its ROI. Through this type of digital solution, lenders can:
Find the right cadence. Invoice automation through collections software allows companies to set up their own reminder campaigns. Additionally, it enables them to find the appropriate frequency in which they should send messages to their customers without seeming too spammy. This helps them achieve better results by fostering a relationship of respect that empowers debtors to reach their payment goals. Through the right digital solution, businesses can choose between email and text reminders or a mix of both mediums to capture their customers' attention and keep them engaged. Additionally, they can adjust the date and time until they find the rhythm their clients best respond to.
Tailor communication for different customer groups. Not all debtors have the same financial struggles and needs. For example, a client who forgot to pay a bill by a few days is different than one who's several weeks (45+ days) overdue. Therefore, they require payment reminders with different messages. The right collection solution will allow lenders to classify different types of clients into groups with similar characteristics to create and send messages that feel custom-made. Clients respond much better to personalization simply because it makes them feel more valued. Showing past-due clients that they matter is the first step in creating a healthy bond with them. Once the relationship is established, collection efforts may become much more effective and render the expected results, allowing the company to make its money back.
Have ready-to-use templates. Automation allows companies and their collections team to save a lot of time in creating messages for their clients. It allows the creation of standard drafts for common groups and enables agents to send them in different intervals (30 days, 60 days, etc.) depending on the purpose of the message. This way, customers can have constant reminders every step of the way to ensure they know how and when to make their payments to avoid being late.
Make staff more efficient. Automation is the ultimate tool to increase team efficiency and center resources where needed. By automating repetitive tasks in debt collection, companies can empower their human resources to focus on more strategic duties that promote growth. Not only does this yield better financial results, but it also positively impacts employee morale. Agents tend to feel much more motivated at work when handling challenging matters instead of taking care of mundane tasks that technology could quickly solve.
Recover more money faster. As mentioned earlier, digital payment reminders allow businesses to get payments faster than traditional solutions. This approach provides borrowers with more direct, interactive communications that walk them through the payment process. Companies can even include secure payment links on their automated invoice payment reminder to simplify the payment process, allow users to pay via their favorite methods, and even set up a payment plan based on their particular needs. This gives them a sense of control that could be the ultimate motivator to pay their dues when prompted.
Validate their identity. The internet can be a scary place, and people constantly feel like they need to watch their backs for scams and other criminal activity. Debtors must be very careful when engaging with messages from financial institutions, especially those asking them for money. Collections software lets companies validate their identity and send all communications from brand-owned channels. This significantly reduces their chances of being mistaken for spam and increases the probability of receiving payments.
Gather relevant data. When companies send a past-due notice, they can get back more than just money. Automated messages allow them to gather the data required to measure their campaigns' success. This way, they can easily see what's been sent and what's performing well. Studying the resulting reports will empower organizations with valuable insights into the recovery process. It will give them the information to determine how many reminders customers need before making a payment, which channels they best respond to, and how frequently they like to be reached.
How Lexop Can Help
Digital reminders are necessary for a successful collection strategy. They offer a more straightforward approach that benefits all parties involved. Digital collections software like Lexop can help businesses create a more solid debt-collection strategy and notify customers when their payments are due or if they've missed any.
Lexop's sequences feature allows companies to send digital payment notifications by the thousands within seconds since early-stage collections. It enables them to use the most popular communication channels based on the customers' preferences to reach their customers and craft personalized templates. This way, each client can get tailor-made past-due notices based on their interactions and previous payment behavior.
We have a solution for you if you're ready to take the next step toward a more efficient and effective debt-collection process. Reach out to us and learn more about what Lexop can do for you. Start your humane and empathetic debt recovery journey with us today!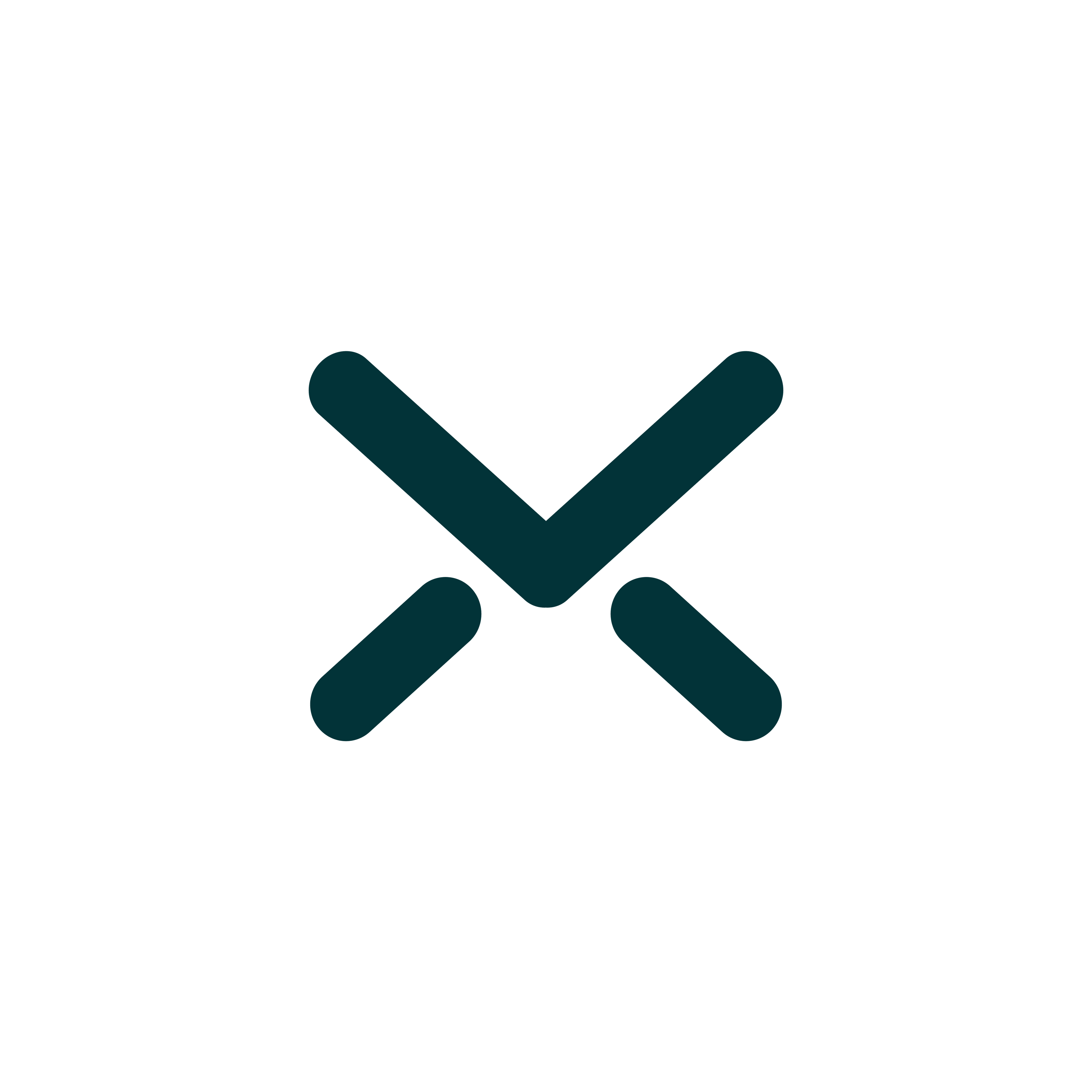 Lexop
Lexop helps companies retain past-due customers by facilitating payment and empowering them to self-serve.