For years, society has slowly been transforming into a digital-first world. Always on a business's "to-do list," converting to a digital operation has always been the goal, but not necessarily prioritized. When the COVID-19 outbreak began, and with its continued presence in our lives for the foreseeable future, businesses have realized to continue operating, they need to adapt. According to Twilio, the pandemic has accelerated digital communication strategies by six years, and 97% of enterprise decision-makers believe the pandemic will expedite their company's digital transformation.
Twilio also states that technology, energy, and healthcare companies, in particular, are the most likely to speed up digital transformation in response to COVID-19. While the pandemic has presented unprecedented issues worldwide, it has also presented an opportunity to fast-track our digital transformation to prepare ourselves for the future. A future where digital contact is the norm and tasks like making payments online without the need for human intervention is prevalent. A future where completing everyday tasks is so efficient we can focus on more pressing issues.
Embracing digital disruption
We are consistently introduced to new technology that disrupts the way we live and changes how businesses operate. While new technologies emerge every day, adoption of that new tech doesn't come without some skepticism. The human race has always adapted to change, but it can often be slow because humans fear the unknown and change. When email was conceived, who could have known it would completely change the way we communicate forever.
An article by the Harvard Business Review in 2017, stated that due to digital disruption, over 52% of companies in the Fortune 500 had gone bankrupt, been acquired, or shut down since the year 2000 when the tech boom started to take off.
There is no time like the present to speed up your digital transformation. These unprecedented times have forced businesses to rethink how they can keep them running now and continue running in the future. Embracing digital disruption is imperative to our digital transformation, and if the past is any indication, if businesses don't adapt, not only will they be left behind, they may no longer exist.
Make Technology Accessible
Technology needs to be accessible to everyone. What that means is that it needs to be easy-to-use and easily understood by the average person that may not be tech-savvy. When we went into lockdown, older adults were left to scramble and figure out how they could still complete their day-to-day tasks such as banking or grocery shopping. Those older adults, who previously had minimal desire to embrace technology and use it in their daily lives, saw large organizations helping and encouraging them to adopt it faster. Other businesses should look at this example, and follow their lead to make technology accessible to everyone.
Planning for the future
As a business, you need to start optimizing your operations and make decisions that will help you prepare for the future. According to Twilio's Digital Engagement Report, 92% of respondents said transforming digital communication is critical to address COVID-19 business challenges.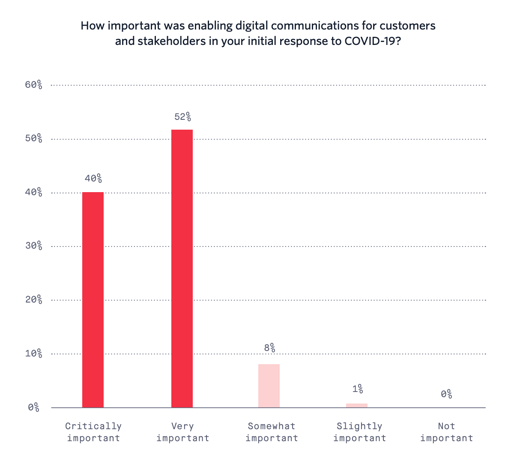 SOURCE: Twilio COVID-19 Digital Engagement Report
Collections operations, for example, can benefit from a plan for the future. Traditional communication and payment methods have already shown not to be efficient, so adopting digital technology to collect on past-due accounts seems like a natural step to ensure you are reaching all your past-due customers and minimizing losses.
95% of all companies are looking for new ways to engage customers as a result of COVID-19, and 92% of companies know transforming digital communications is critical to addressing current business challenges. It's time for your business to do the same if you haven't begun the transformation already.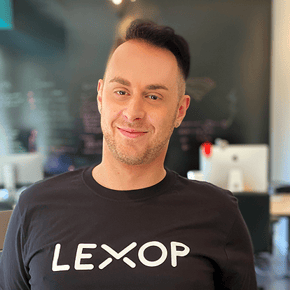 Chris Miljanovski
Chris Miljanovski is a Content Specialist at Lexop. Having a passion for content creation, Chris has over five years of experience writing blogs, social posts, and optimizing messaging for a multitude of brands. With his expertise in creating content for start-ups in the tech industry, he has helped companies build awareness and generate leads.