2020 began like any other year. Customers still had past-due accounts, and life was business as usual, then COVID-19 happened.
While the first part of the year saw an incredibly damaging economic situation, the second part of the year presents an opportunity for a rebound as governments reopen the economy. While this is good news, Global News has stated there is a cash crunch coming. In the article, Statistics Canada notes that before the pandemic began, there was already $1.77 in credit market debt for every dollar of household disposable income. What this means is that Canadians were already stretched to their limits before COVID-19 shut down the economy.
TransUnion released a financial hardship report that reveals the pandemic has shifted household budgets. 42% of consumers surveyed said they have reached out to lenders to discuss payment options for past-due balances. What this signifies is that collecting overdue bills may prove to be more difficult going forward.
Traditional methods of collection are notoriously unsympathetic, predatory, and even threatening. In our 2021 Consumer Repayment Preferences Survey, over 67% of respondents said that when contacted by phone about a past-due bill, the agent they spoke with was not empathetic and was not understanding of their situation. Knowing this, the way companies collect past-due accounts needs a makeover with a more customer-centric collection approach that encourages payment, not demands it.
Rethinking how companies collect
As the economy reopens, past-due payment deferrals are coming to an end, and regular collection activity is resuming. According to McKinsey & Company, customers do not respond to repetitive calls, and often see this as a form of harassment. In another study, they also stated that customers have a general preference for digital contact via email and text message. Knowing that customers are more likely to respond to a less invasive digital approach, the industry needs to adapt to more productive collection strategies such as emailing customers about overdue balances and outlining their options on how to pay it. We discussed the call to digitize in a previous blog entry, which you can find here.
While COVID-19 may have turned the world upside down, that doesn't mean customers don't want to pay their debt; they are just looking for more flexible payment options that involve less friction. These options can include making a payment in full or making a payment arrangement via credit or debit card, bank transfer, and much more.
It's all in the messaging
When it comes to emailing your customers to ask for payment on a past-due bill or balance, messaging needs to be tailored to the customer. When companies send passive-aggressive or generic notices of collection, the outcome can be counter-productive. A more appropriate solution is to send a polite email to your customer with a gentle tone that best showcases their options for making payments.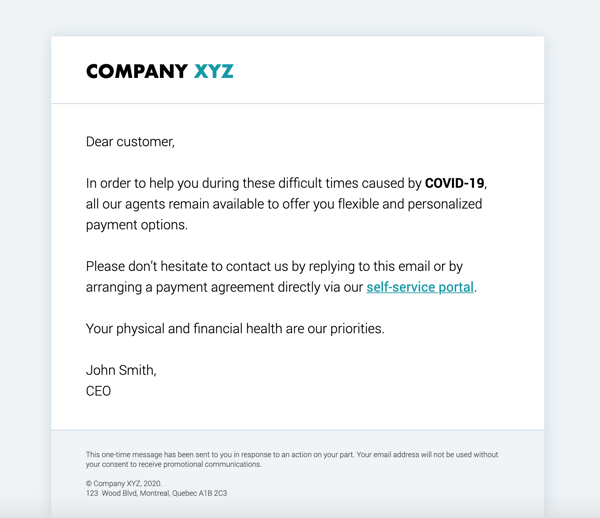 If that doesn't result in increasing your self-cure rate, consider using a multiple email approach that escalates gradually, outlining the urgency of payment. If you're sending your customer gentle email reminders and a week has passed without a response, send a more strongly worded follow-up. If that doesn't grab their attention, slowly escalate the tone of your emails using more urgent messaging that eventually explains the consequences for non-payment.
Foster your relationships with customers
Fostering and maintaining relationships with your customers is just as crucial as collecting past-due balances. There are ways you can manage your relationships with past-due customers, like encouraging self-cure by giving payment flexibility options. Flexible options can include allowing customers to make a minimum payment or making a payment arrangement that better suits their financial situation.
An example of a payment arrangement would be allowing a customer to make payments weekly, bi-weekly, or even monthly. Giving your customers flexible payment options shows you appreciate their loyalty and want to work with them to settle their accounts.
While there isn't a perfect way to collect past-due balances from customers, applying a customer-centric collection approach that both empathize and gives clients flexibility without being aggressive and invasive puts your company in a better position to maximize your collection efforts.
Editor's Note: This post was originally published in June 2020 and has been updated and for freshness, accuracy, and comprehensiveness.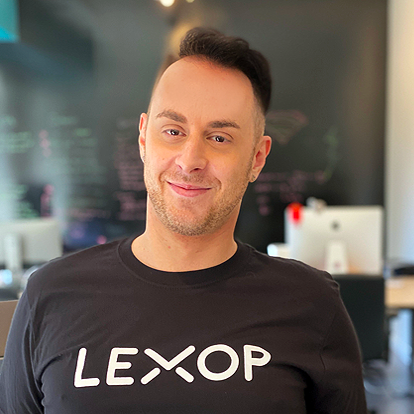 Chris Miljanovski
Chris Miljanovski is a Content Specialist at Lexop. Having a passion for content creation, Chris has over five years of experience writing blogs, social posts, and optimizing messaging for a multitude of brands. With his expertise in creating content for start-ups in the tech industry, he has helped companies build awareness and generate leads.