It's inevitable, but as we age, we start feeling a bit left behind and stop keeping up with current trends. When you get used to a routine, it can become challenging to adopt a new way of doing something.
With the impact of rapid growth over the past few decades, some older adults are struggling to embrace technological advancements. According to The Globe and Mail, Canadian baby boomers have been much slower in adopting modern tech like online banking than younger generations.
In a study conducted in 2017 by Pew Research Center, just 26% of baby boomers said they felt confident when using smartphones, computers, and other electronic devices to complete tasks online, but that percentage is rising. In 2020, 41% of baby boomers and 45% of older generations said they would prefer to be notified by email about a past-due bill.
In our recently conducted 2021 Consumer Repayment Preferences Survey, one critical new expectation is that customers want to be contacted about past-due accounts digitally. Over 69% of our 2021 survey respondents stated they prefer to be contacted digitally by email or text message compared to 54% in 2020. Of those respondents, only those over 77 years of age and older said they prefer to be contacted via traditional methods, meaning it's still not top of mind that older adults feel the need to be contacted digitally.
Bloomberg reports that as a result of COVID-19, financial institutions are now pushing for older adults to do their day-to-day banking online, which includes paying their bills. As a result of older adults being more at risk of getting the virus and staying home, this presents an unprecedented opportunity that the collection industry must take advantage of to help older generations go digital.
Educate older adults to go digital and apply that logic to past-due customers
Getting older adults to go digital may seem like a difficult task, but it's much more likely in this climate than ever. Financial institutions like RBC have created tutorials, Q&As, and FAQ sections for older adults to navigate online banking and teach them how to pay their bills online. Once an individual becomes more familiar using online platforms to do their banking and pay their bills, they will be more likely to shift to paying all their bills, including past-due accounts, online.
Collecting debt using traditional methods is getting more difficult as we continue to evolve into a purely digital world. Many of your older customers with past-due accounts don't know how to pay their bills online and need guidance.
Creating a targeted educational piece that encourages online payments can help your collection department operate more efficiently and prepare past-due customers for late payment reminders by email instead of regular mail. By informing them about email reminders, past-due customers may be less alarmed or concerned about their legitimacy when they receive them.
Turn your collections team into digital ambassadors
Educating your team to teach customers about digital methods is also crucial because, according to The Globe and Mail, older adults think a lot of the mail they receive online is a scam. There is a need to build trust with your customers right from the beginning of your relationship, so when collection emails start coming, they already have that trust built in.
When your agents contact past-due customers, consider having your team educate and promote online payment options, and start collecting email addresses to add to customer accounts for future contact.
Train your representatives to speak to older adults with an empathetic and encouraging tone outlining the benefits of going digital, keeping in mind the learning curves and unique challenges older adults face.
Some benefits you can describe that could be appealing are:
A reduction in phone calls regarding their overdue balances

Easy to understand

emails

that outline their options for repayment including making payment arrangements

Getting notified instantly via email to make a payment or arrangement in minutes, as regular mail continues to have delays due to COVID-19
While aging is unavoidable, it doesn't mean older adults need to fall behind the times. It's essential to educate, inform, and show how new technologies can improve and simplify their lives, not make them more complicated.
Editor's Note: This post was originally published in July 2020 and has been updated and for freshness, accuracy, and comprehensiveness.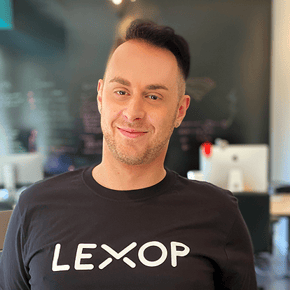 Chris Miljanovski
Chris Miljanovski is a Content Specialist at Lexop. Having a passion for content creation, Chris has over five years of experience writing blogs, social posts, and optimizing messaging for a multitude of brands. With his expertise in creating content for start-ups in the tech industry, he has helped companies build awareness and generate leads.