It's been a common theme to refer to millennials as the lazy, entitled generation. If you dig a little deeper and see past the generation's superficial nature, the real issues start to pop up. In 2019, The Atlantic released an article that discussed how millennials have been struggling ever since the first recession and as they approach middle age, they're failing to make it to the middle class, which was the case before COVID-19 hit.
Now facing another recession, millennials have never really had the chance to bounce back and prosper from financial crises like the Great Recession of 2008. The Financial Times said it best when they referred to millennials as "The Recessionals."
According to Financial Post, Canada's debt is expected to jump by 20 percentage points due to the pandemic. Because millennials, who are adults born between 1981 and 1996, make up a vast amount of the current debt issues, we must zoom in on them and help find ways to soften the blow with more efficient and flexible collection techniques.
Another financial setback for millennials
Debt issues amongst millennials have proceeded this recession, but have now been exacerbated due to the pandemic. In TranUnions's pandemic financial impact report, 47% of Canadian millennials surveyed said they are concerned about paying their credit card bills. 27% are worried about paying their utility bills, and 28% are concerned about paying their phone bills. The graph below provides greater detail about Canadian millennials and their bill concerns as a result of COVID-19.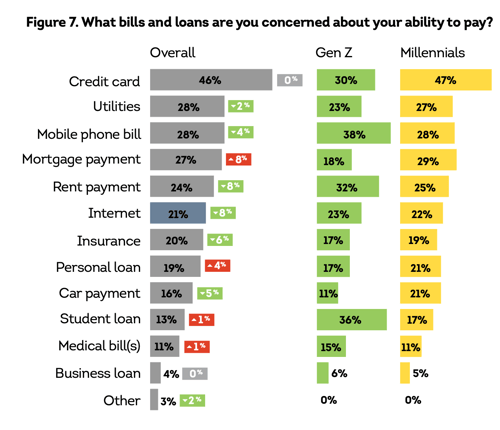 SOURCE: TransUnion Financial Hardship Report - Wave 6
What can the collection industry do to help?
Even though the pandemic presents an obstacle in collecting past-due accounts, you can find ways to help and encourage your past-due customers to start paying off their past-due accounts while also improving their payment experience.
As mentioned in a previous blog, COVID-19 payment deferrals are coming to an end, and regular collection will resume shortly. Collection operations need to adopt a flexible collection strategy to make past-due customer experiences more positive and alleviate some stress.
Our recent study revealed that millennials prefer online contact and payment methods. A flexible collection strategy for millennials would include sending automated, personalized emails to past-due customers and providing a self-service portal to make payments and arrangements online.
The collections software market will be at the forefront of recovery efforts
As a result of increased debt, and specifically millennial debt, there is a need to control, manage, and automate collection on past-due accounts.
A new in-depth report entitled Global Debt Collection Software Market: Growth, Trends, and Forecasts 2020-2025, states that the world market for collection software will grow substantially in the next five years.
The report outlines that collection software features like automated customer reminders, emails, payment arrangements, and a good analytical framework leads to higher efficiency operations and lowers excessive costs incurred.
They also report that because growing rules and regulations have made the collection process more complicated over the years, companies in the telecom and utility industry are adopting collection software. By moving their collection efforts online, these companies can track their past-due customers, follow up on bill payments, and maintain their credibility.
With millennial debt rising and knowing what their past-due payment preferences are, collections software will help simplify recovery efforts in this recession.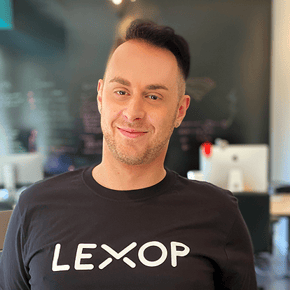 Chris Miljanovski
Chris Miljanovski is a Content Specialist at Lexop. Having a passion for content creation, Chris has over five years of experience writing blogs, social posts, and optimizing messaging for a multitude of brands. With his expertise in creating content for start-ups in the tech industry, he has helped companies build awareness and generate leads.