Elevating customer experience excellence is the new norm. Now more than ever, companies that can provide the best customer experience throughout the customer journey will bank on enhanced customer satisfaction, improved retention, and reduced end-to-end service cost.
A McKinsey US study shows how delivering a distinctive journey experience increases customers' likelihood of staying with you and recommending you.
Unfortunately, some companies still provide a lesser quality service throughout the customer journey for consumers who are behind on bills. This fracture creates unnecessary friction points that damage the customer experience and relationship, putting conversion and churning rates at risk.
Remember what professional basketball executive Pat Riley said, "Complacency is the last hurdle standing between any team and its potential greatness." Your collections department should be continuing to innovate to succeed.
In this blog post, we will discuss how optimizing a past-due customer journey requires you to dig into your customer base and identify every customer individually. Doing so will allow you to put yourself in your customer's shoes to gain awareness about the performance of their end-to-end experience and adjust accordingly.
First of all, what are 'customer journeys'?
The customer journey is the experiences customers undergo in their interactions with your brand touch-points, documenting the whole experience of being a customer. Marketers seek to boost conversions by identifying these touch-points and optimizing them for the best customer experience.
Customer journeys can be either sticky or smooth, in other words, fun or functional
Sticky journeys are unpredictable experiences using cyclical patterns that keep customers excited, engineered to hook them in an involvement spiral. Think of PokemonGo as an optimal example.
Smooth journeys are consistent, effortless, and predictable experiences designed using streamlining techniques like simplification, personalization, and contextualization that bring customers into a loyalty loop. This journey is ideal for getting the job done, such as paying a bill.
Customer journeys can also be both sticky and smooth
For example, more and more, we are seeing telecom companies implement a blend of sticky and smooth journeys in their customer portals. Consumers can manage all their products with the company from the same mobile app, keep tabs on their service usage, pay bills, get rewards, and more.
Yet, as mentioned earlier, customer journeys are likely to get bumpy once consumers get behind on bills. If not deleted, the customer portal can go unopened for a prolonged period of time because the outstanding bill generates more anxiety. Learn how collections become the blind spot that fractures your customer journey.
The past-due customer journey
Not all customers are the same. Companies providing utilities, telecom, banking, and financial services have a diverse customer base. So, a look into your customer base demographics is vital. What works for a segment may not yield the same results for another.
Think of it this way. Past-due customers with limited computer literacy might be best approached using analog technologies. A similar situation is expected among those with an immigration status that keeps them from enjoying the full spectrum of the digital transformation.
However, analog technologies for account receivable collections can be counterproductive in today's day and age. Since the pandemic, the digital transformation has accelerated. Even with digital fatigue, a growing fraction of consumers prefer contactless payments.
Besides, as we see debt collection getting more regulated across North America and pandemic aid programs coming to an end, offering a smooth journey that prioritizes the well-being of past-due customers is critical.
Why a digital solution?
Although there is no exact science for dunning, developing an effective dunning strategy requires anticipating customer behavior, adaptation to customer demography, and alignment with customer preferences.
You should be responsive and make sure your past-due customer journey offers flexibility. The situation that is keeping customers from paying on time may improve slowly, but at least you will be able to retain them. Importantly, you will continue collecting from them by putting the right tools at their disposal.
A digital solution brings automation to the table
Automation is at the heart of the digital transformation, and, as such, it is fundamental to creating effective journeys at a scale that overdue customers want to continue. With automation, customers can efficiently execute formerly complex journey processes faster, generating valuable behavioral data for analysis and proactive personalization. A prime advantage over the archaism of print and phone calls.
Exhibit 1. Lexop's six-steps to a frictionless past-due customer experience.
© Lexop Solutions Inc., 2021


Effective past-due payment reminder methods
The appropriate sequence of touch-points (payment reminders) depends on the brand and its customer demography. Underneath it all is the company's ability to observe, listen, and learn.
Notwithstanding, in the post-COVID-19 economy you can't go wrong with e-mail and SMS as the most effective means for dunning.
E-mail
In 2020, there were a little over four billion global e-mail users. Not to mention, mobile was the preferred way to consume e-mail so far in 2021. Our study, Past-due in 2021: New expectations in collections, reveals how 54% of past-due customers prefer to be contacted digitally, rating e-mail at the top with 40%.
SMS
SMS notifications can be more effective at getting attention than e-mails because they are not as expected. As of 2021, around 48% of the population owns smartphones, and on an average day, mobile users engage with text messages more than with any other app.
Ready to optimize your past-due customer journey?
Adopting a digital solution facilitates better customization in the communication with past-due customers. It allows companies to reach out to them faster, provide a smooth customer journey that shows empathy and flexibility, and collect data that you can analyze in real-time.
An optimized past-due customer journey relies on how successfully a company masters automation and how effectively it learns from the produced data. Keep in mind that since not all customers are the same, you want to pay attention to your customer base demographics and adjust accordingly. You'll be at a competitive advantage.
Lexop has helped many mid-and large enterprises transform their payment collection strategies in ways that attain high ROI while also increasing customer retention rates. If you're unsure how or where to start optimizing a compelling past-due customer journey, talk to us!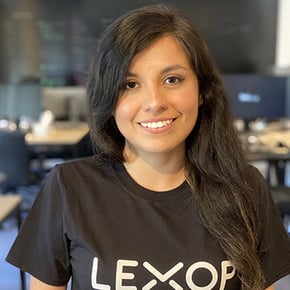 Paula Monroy
Paula is Communications Specialist at Lexop. With a formal background in urban planning and creative writing, Paula writes about pretty much anything.