March is Fraud Prevention Month in Canada. While it's always important to take the proper steps to be protected year-round, Fraud Prevention Month brings the subject to the forefront. It raises awareness of the many different online scams out there and how consumers can protect themselves from them.
Customers, especially past-due customers, can be some of the most vulnerable individuals when it comes to falling for scams. They are already in a precarious situation due to their inability to pay bills on time and are already being contacted by companies they have accounts with.
We've delved into the topic of phishing scams in a previous blog, but you can never have enough information when it comes to scams.
Below, we have outlined 5 points you need to educate your customers about scams.
1. Make sure they don't share sensitive information online or on social media platforms
It may seem innocent enough for people to share their personal information on social media platforms like Twitter, Facebook, or Instagram, but scammers are always on the lookout for loopholes and ways to obtain sensitive information. It's important to remind your customers to never share any personal information online with unknown sources or on any social media platform.
2. Tell them to always ask questions
Inform them your company will never ask for account or personal information in an unsolicited phone call, email, or text message. When this happens, and a customer knows there is no reason for them to be contacted, they should always ask questions. Advise them to obtain a number to call back if the communication is via phone or look for a number if it's an email to ensure the communication's legitimacy. If your customers suspect they are being contacted by someone posing to be your company, make sure they are equipped with the tools to report it to you immediately.
3. Advise them to change their passwords often
Advising your customers to change their passwords frequently is so important in today's world. Scammers love using automated methods, including using fraudulent information to automate account creation using passwords that have been stolen from data breaches, with the primary goal being to take over a user's account.
4. Have them set up 2-step verification
While it may seem a bit extreme to the average customer, having them set up 2-step verification on their accounts is an excellent method to increase security and help them stay protected. 2-step verification helps protect customer information by using two different methods to confirm their identity when they are attempting to access accounts.
5. Download our latest ebook on phishing scams
With the tips above to relay to your past-due customers, you're well on your way to helping them prevent fraud, but there is so much more to educate them on. Phishing scams are on the rise, especially due to COVID-19. Our phishing scam ebook will help provide additional tools and education on phishing scams to help protect your past-due customers even more.
Download our ebook today to learn more about phishing scams and help protect your past-due customers.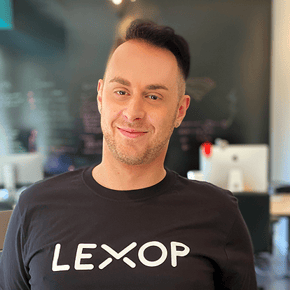 Chris Miljanovski
Chris Miljanovski is a Content Specialist at Lexop. Having a passion for content creation, Chris has over five years of experience writing blogs, social posts, and optimizing messaging for a multitude of brands. With his expertise in creating content for start-ups in the tech industry, he has helped companies build awareness and generate leads.