Phishing scams have been on the rise for the past few years, but since the pandemic began, the phenomenon has reached new heights. As a result of this, scammers have been preying on households with tight budgets. Those unsuspecting customers who are past-due on their bills feel the need to divulge personal information due to these scams' urgent nature.
Scams can pose a threat to your company's collection process. When your customers receive phone calls, text messages, or emails from scammers, they are often threatened with service interruptions unless they act immediately. Scammers leverage this fear to get payments, often falsely claiming customers are past-due, potentially hindering your company's ability to collect on past-due accounts efficiently. This is why your company must look out for their past-due customers and educate them on what to watch out for before making any payments.
Below, we identify 3 key tactics scammers are currently using to gather personal information from past-due customers and also provide some educational tips on how to protect them:
Immediate service disconnections
Scammers will often threaten customers with immediate service disconnections. They use this ploy to get personal information and demand immediate payments to prevent any disconnections.
Phone calls and emails
Customers may receive phone calls from an individual claiming to be from your company and demand credit card information over the phone immediately to settle their past-due account. In the case of emails, they may receive an email with an urgent subject line, and the contents of the email will include predatory language demanding payment or personal information.
Unauthorized payment methods
Scammers may also use unauthorized payment methods such as asking past-due customers to purchase prepaid debit cards from a fraudulent website and asking them to provide the card number and PIN to make a payment to their account. Scammers may also guide your company customers to use a third-party payment app to pay.
Educate your past-due customers on fraud prevention
Past-due customers need to be educated on the type of communication they should expect to receive to protect themselves from phishing scams. Sometimes, it can be challenging to recognize fraudulent texts, phone calls, or emails because scammers are always fine-tuning their methods.
Here are just a few examples of how to educate your past-due customers:
Advise past-due customers not to click on links that display unfamiliar URLs.
Have them look out for poorly written emails or grammatical errors.
Make sure they confirm the sender is who they claim to be (@yourcompany.com).
As a result of the pandemic, phishing scams have become exponentially more prevalent. It's imperative to protect your past-due customers' safety by educating them on deciphering between legitimate and fraudulent communication.
To learn all the ways you can educate your past-due customers on phishing scams, download our latest Ebook today.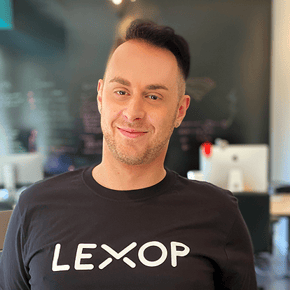 Chris Miljanovski
Chris Miljanovski is a Content Specialist at Lexop. Having a passion for content creation, Chris has over five years of experience writing blogs, social posts, and optimizing messaging for a multitude of brands. With his expertise in creating content for start-ups in the tech industry, he has helped companies build awareness and generate leads.