As the pandemic continues to disrupt our lives in a seemingly endless loop, consumers have been left with uncertainty about the future. News articles go one day from displaying optimism, then the very next day, displaying a sense of uncertainty about when this will all end, and we can get back to our normal lives.
It's essential to remain positive during these uncertain times and show optimism and understanding to those having a difficult time, specifically past-due customers. The truth of the matter is that we will have to live with the virus for years to come. Although the vaccine is here and there is hope, the third wave is also here, presenting new challenges.
To help, we must first understand some reasons why customers are becoming or remain past-due and use that knowledge to come up with proactive solutions to help them through it.
Financial woes
In what's likely no surprise to anyone, millions of Canadians' financial stability has decreased substantially due to the pandemic. In a previous blog, we outlined how some utility customers in Canada were becoming increasingly late on their bills and need options. In our annual Canadian Repayment Preferences survey conducted this year, we asked past-due customers who were unable to make payments what their reasons were for being late. Over 61% of respondents reported they could not afford it or had unexpected expenses to take care of, up from 40% in 2020.
Return to work in some industries has no start date
The pandemic has hit some industries hard, particularly the hospitality, travel, and tourism sector. In some provinces, bars and restaurants have been closed since the fall of last year. Without a re-opening date, the workers affected by this have been on government-assisted financial programs like employment insurance, amongst others, for some time now. With a significant reduction in income, many individuals have become late on their bills. They are also unsure when they will be able to make regular payments again to become current, so offering flexibility is essential.
Outdated communication methods
How companies reach out to past-due customers to recover accounts vary. Traditional communication methods like phone calls and letter mail are still widely used but are pretty ineffective. Though we as a society are in the midst of a digital transformation and knowing past-due customers prefer to be contacted digitally, it's imperative companies understand this. They must adapt communication methods proven to be effective that encourage payment, engagement, and understand what customer care expectations are in 2021.
Helping past-due customers with collection software
Top-notch collection software will help alleviate these issues and proactively encourage both engagement and payments from past-due customers. Three elements of our software solution below can help:
Friendly digital reminders
Sending out emails and text messages with the right tone and messaging can allow companies to rectify past-due accounts without damaging customer relationships. These friendly reminders include language that lets past-due customers know companies want to work with them, not against them, to come to a solution together. Additionally, reminders are completely white-labeled with the company's logo and colors to feel like an extension of the brand, building trust.
Self-service payment portal that encourages self-cure
The last thing past-due customers want during these difficult times is to be bombarded with phone calls about their past-due accounts. Once they open their friendly digital reminders, a link is embedded within it that guides them to a payment portal that gives them the tools to self-cure on their terms.
Flexible payment options
Past-due customers who are unable to pay their balances require flexibility. When they are being contacted about past-due amounts, options are needed to help them get through it. Once In the payment portal, they are offered just that. They can choose options like paying in full, making an arrangement, or making a minimum payment.
If we give past-due customers all available tools and options to settle their accounts and position the solution in a manner that shows an understanding of their situations, some of the stress of what's going on in the world that is out of our control can be alleviated.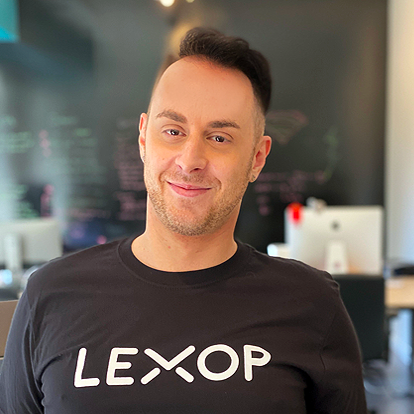 Chris Miljanovski
Chris Miljanovski is a Content Specialist at Lexop. Having a passion for content creation, Chris has over five years of experience writing blogs, social posts, and optimizing messaging for a multitude of brands. With his expertise in creating content for start-ups in the tech industry, he has helped companies build awareness and generate leads.