In 2020, COVID-19 turned millions of Canadians' financial situation upside down. The need for a digital transformation and a re-evaluation of collection strategies to empathize with and help past-due customers in the recovery process is more important than ever.
Last week, we hosted a live webinar where we revealed our 2021 nationwide research results on consumer repayment preferences and compared some of the differences to our 2020 research conducted just before the onset of the pandemic.
These results showed just how much the pandemic, amongst other factors, has changed consumer habits and expectations and how companies can re-evaluate collection strategies to empathize and help past-due customers in the recovery process.
We outline 3 key findings from the webinar below so companies can better understand what the new expectations in collections are and how to adapt to them in 2021:
Past-due customers want to be contacted digitally
One critical new expectation is that customers want to be contacted about past-due accounts digitally. Over 69% of our 2021 survey respondents stated they prefer to be contacted digitally by email or text message compared to 54% in 2020. Of those respondents, only those over 77 years of age and older said they prefer to be contacted via traditional methods, which means that almost every other generation prefers digital contact. How can we adapt in a way that encourages payments?
Past-due customers need empathy
Customers with past-due accounts often encounter outdated and impersonal collection practices, including automated calls and letters. It is also common that their accounts are sent to collection agencies with little to no warning. These approaches usually end up being unproductive and tone-deaf, particularly in today's financial climate when many past-due customers simply don't have the ability to make payments and may be behind on bills for the first time.

These past-due customers require guidance, options, and empathy. Current collection practices are not sensitive to each past-due customer's unique situation and often leave them feeling defeated or unappreciated. Our 2021 survey results show that over 67% of respondents stated that when contacted by phone about a past-due bill, the agent they spoke with was not empathetic and was not understanding of their situation.
Past-due payments are going digital
The way customers make payments is changing drastically in our post-pandemic world. It's essential customer needs align with what their options are so they have the best experience possible. Accelerated digital transformation due to COVID-19 and a shift to cashless transactions has resulted in a massive jump in online payments between 2020 and 2021. In 2020, only 37% of our survey respondents stated that they paid their past-due bills digitally, whereas, in 2021, that percentage jumped to 68%. Although online payments have increased, the ability to make those payments on time has decreased.

2021 presents an opportunity to change the collection experience. Our 2021 survey results show that a positive, productive future in collections lies in how companies treat their past-due customers and how willing they are to evolve to accommodate our digital-first world's ever-changing needs.
Watch the webinar here to see the rest of the findings!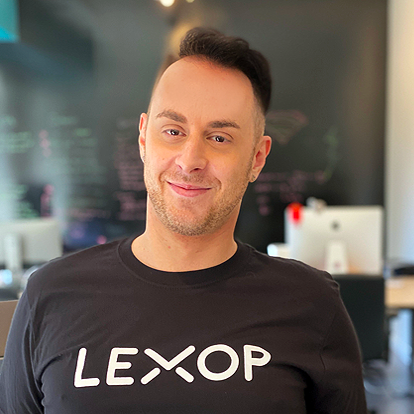 Chris Miljanovski
Chris Miljanovski is a Content Specialist at Lexop. Having a passion for content creation, Chris has over five years of experience writing blogs, social posts, and optimizing messaging for a multitude of brands. With his expertise in creating content for start-ups in the tech industry, he has helped companies build awareness and generate leads.