We've been eager to announce the launch of our new website design. As we recognize that the collections industry is often cast in a negative light, our goal at Lexop is to make the world a better place by removing friction from collections for companies and their past-due customers. And we wanted our website to be a clearer reflection of that.
After six months of project management maneuvering, we're delighted to officially go live!
We've changed a lot since we were founded in 2016. We've grown as a fintech startup thanks to the trust of our clients and investors, and the diligent work of our team. This year alone we've completed a SOC 2 Type I audit by Deloitte, expanded our portfolio of strategic partners, and will continue adding to our family of Lexopers.
As a customer-centric company, it's indispensable for us to make information about our thought leadership, services, and trends easily accessible for our current and prospective clients. We endeavor to provide our client partners with the most accurate, up-to-date information and share our knowledge and expertise in the Collections Landscape, and Consumer Needs.
Lexop's Co-Founder, Jean-Olivier Bouchard says:
"We hope our website's new design better states what Lexop adds to your collections strategy and career prospect as we look to the future. Our revamped website is more user-friendly, informative, easier to navigate, and says much more clearly what we as a company are all about."
What's new?
With this website revamp, we want your new collections strategy to take into account that today's customers expect a service that considers making their experience a more positive and flexible one. Also, get to know us better!
Concisely, we made changes to the Careers and About us pages. We also added a new Solutions page. Overall, it's easier to find the information you want.
An improved careers page
As part of our continuous growth, we're always working to attract top talent here, so we're excited about our revamped careers page. It truly reflects the experience of working at Lexop and gives prospective employees more information about what it's like here.
Optimized details about us
Our new About Us section really highlights our commitment to empowering past-due consumers and delivering great user experiences, and that our mission and company values tie everything together.
Forthcoming solutions pages
We also worked closely with our sales and client services teams to understand questions our clients have and included a Solutions section to better address how Lexop can help businesses across different industries.
Any thoughts?
Lexop is on a mission to help companies collect past-due payments faster by providing the best customer experience. Our newly revamped website clearly illustrates what sets us apart in the collections space. With powerful tools in place, we continue to better showcase our product to companies, highlight our performance, and demonstrate our values. It's a great place to learn about the benefits of adapting to new consumer needs in the collections realm.
Our new website design is clearer. It's user-friendly, and we think it will make you want to join the Lexop family. We hope you heart it! For any questions, suggestions, feedback, or comments, don't hesitate to contact us.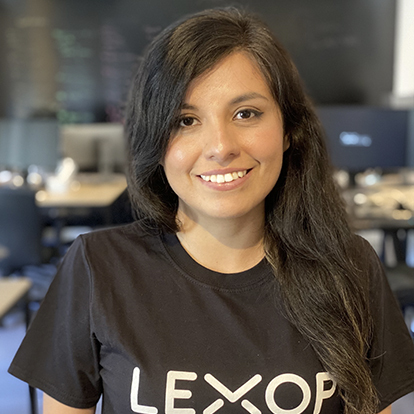 Paula Monroy
Paula is Communications Specialist at Lexop. With a formal background in urban planning and creative writing, Paula writes about pretty much anything.