As we know, 2020 has accelerated the pace of the digital transformation that some might have thought surreal in 2019. The landscape of remote work has permanently changed in both public and private sectors, consumer preferences continue to shift toward contactless solutions, and innovations to make these changes possible and take full advantage of the new landscape are quickly evolving.
Under these conditions, adopting a digital collections strategy means greater exposure to potential business, cyber, and privacy risks.
So, by understanding where potential risks are and what degree of risk versus benefit your company can afford, you'll be able to jump into the next phase of your digital transformation with confidence.
Digital risk management starts at the top
Digital Risk Appetite (DRA) is the agreed level of risk your company is comfortable taking, specifically digital adoption. It clearly articulates in statements and metrics the views of senior management and the Board—if applicable. However, although refining risk appetite occurs at the top of the leadership ladder, it will impact the day-to-day activities of the collections team.
Fully embedding DRA into the business involves connecting tangible actions to risk threshold breaches. It cascades down as policies and operational processes within the company. For the collections department, this entails stricter processes to pursue its digital strategy.
Managing risks for an optimal digital collections strategy
Say your digital collections strategy calls for a multichannel engagement solution. A well-thought DRA will provide the threshold limit of risk you can take to find one that assures strong data integrity and privacy compliance. You'd be facing two options:
Develop the solution in-house

Outsource the solution
Option A might be an obvious answer for large companies, but that is not always the case. Even for smaller enterprises, being agile requires responding and adapting quickly to change. Developing a tool with a function as simple as reaching out to past-due customers can be costly and problematic to update consistently over time.
Option B is easier. The tedious maintenance of the software is left in the hands of the company that sells it as a service. All you have to do is pick the one that meets your primary needs.
An efficient DRA will additionally provide sound direction to make the most out of the available resources when adopting digitalization.
For example, self-service platforms are a must-have in today's DNA. A competitive digital collections strategy can't miss it as a key element for increased efficiency. Since such platforms enable past-due customers to self-cure without agent intervention, agent time can be used for higher-risk accounts.
In the end, the best solution will guarantee peace of mind when it comes to data security. Of course, no one can be 100% protected from cyber attacks, but at least there are industry-approved operational standards that can lower the risk of security breaches (See Security vulnerabilities: How to avoid them in digital collections).
Willingness to adapt
There are all sorts of digital tools for collections in the market. Finding the right one will depend on the functions that DRA permits, which is why outsourcing might be the most sensical alternative despite the company's size. If you're unsure where to start, Lexop can help you get started with your digital collections. Our digital experts can advise where current and future transformation opportunities exist within your digital strategy.
Don't let the risks of the digital age keep you from its huge long-term potential!
A well-designed DRA comes in handy when prioritizing your digital and cyber security investment, providing critical guidance for risk-taking decisions, and creating awareness for digital risk across the company. To fully embed DRA within your collections department, it's imperative to involve the senior leadership.
Learn more about how to build an effective collection strategy in the digital age by downloading our Strategy playbook for digital collections, a six-step guide for winning results you are entitled to benefit from.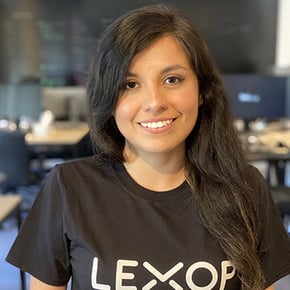 Paula Monroy
Paula is Communications Specialist at Lexop. With a formal background in urban planning and creative writing, Paula writes about pretty much anything.