Image credit: ©️ Paarth Desai
There are several new expectations in collections due to the pandemic and the shift to a digital-first world. From changing the way we communicate with past-due customers to having a more empathetic, understanding approach to customer service, procedures need to align with new expectations.
A critical new expectation is that past-due customers want to be contacted about their past-due accounts digitally. In our recently conducted 2021 Consumer Repayment Preferences Survey, it was uncovered that there is an overwhelming desire to be contacted via digital channels instead of traditional methods.
Traditional communication is down
Our survey results show that past-due customers are being contacted by traditional means like phone and letter mail less in 2021, but it still accounts for nearly 80% of all contact about past-due bills. Our results show that in 2020, 87% of respondents were being contacted traditionally, while in 2021, it went down to 77%. The data reveals that while traditional communication is down, it's still widely used today despite the digital transformation worldwide.
Digital contact is vital
Over 69% of our 2021 survey respondents stated they prefer to be contacted digitally by email or text message compared to 54% in 2020. Of those respondents, only those over 77 years of age and older said they prefer to be contacted via traditional methods, which means that almost every other generation prefers digital contact. When using digital channels to contact past-due customers, the approach and messaging are vital to ensuring a great customer experience and encouraging payment.
Friendly digital reminders
Sending out friendly digital reminders with the right tone and messaging can allow companies to rectify past-due accounts without damaging the customer relationship. Before being guided to an online self-serve payment portal where customers can choose the option that best fits their financial situation, customers are sent personalized, friendly digital payment reminders via email and text message.
The reminders explain the past-due amounts and provide past-due customers with simple payment options to encourage payment. Email and text message reminders also offer real-time tracking capability and allow you to gauge customer responsiveness, and help improve collection strategies.
Fostering relationships with customers and building trust in this financial climate is imperative to keeping the overall customer experience good. Digital payment reminders combined with the past-due payment portal are the perfect tool to encourage self-cure. It empowers your past-due customers to make payments online quickly and easily. They can do all of this independently without needing the help of an agent.
Encouraging payment and helping past-due customers all start with digital contact. Knowing they want to be contacted digitally in 2021, it's essential to align with current needs to ensure an exemplary customer journey.
Download our latest Ebook here to learn more and see the rest of the results from our survey.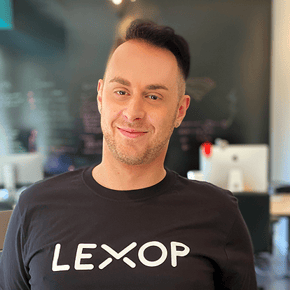 Chris Miljanovski
Chris Miljanovski is a Content Specialist at Lexop. Having a passion for content creation, Chris has over five years of experience writing blogs, social posts, and optimizing messaging for a multitude of brands. With his expertise in creating content for start-ups in the tech industry, he has helped companies build awareness and generate leads.