As household debt continues to rise in Canada and the rest of the world, it can be argued that investing in collection software now will be the key for companies to recover exponential increases in past-due amounts for years to come.
For example, in Europe, Allied Market Research published a report that states that by the mid-2020s, the collection software market will be valued at $2.23 billion. They also note that since 2019, there has been an overwhelming increase in demand for businesses to start controlling and automating collections, to improve the recovery process, and to enhance productivity.
With Canadian companies being no different in their need to improve the recovery process, we want to outline examples of why they need to begin investing in collection software now, as it will be a critical component to elevating the customer experience and increasing growth.
Canadians can't keep up with past-due payments
Global News recently reported that a survey conducted by BDO found that two-thirds of Canadians with debt cannot keep up with their debt payments or have had to make sacrifices in their budgeting. If a large number of Canadians are having a hard time keeping up with their past-due payments now, this could become an even larger issue in the next six months.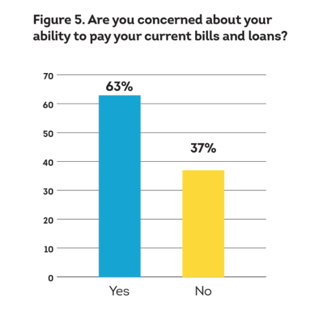 SOURCE: TransUnion Financial Hardship Report - Wave 9
A TransUnion study on consumer financial hardship also states that there is a considerable shortfall to cover bills. With that being the case, the recovery process may become convoluted and more difficult to maintain. Suppose action isn't taken now to automate your recovery processes. In that case, things may look worse in the near future, meaning it could be too late and become overwhelming for collections departments and their agents to maintain.
Customer relief in industries like telecommunications has expired

Since the pandemic began, companies in the telecom, utilities, and financial services industry quickly responded and offered their customers various forms of financial relief, including payment deferrals, service fees being waived, and interest relief. whistleOut, a leading telecom search tool that helps consumers choose and compare products, stated that most customer relief would expire on October 8, 2020. With relief like this expired, along with all other aid and deferrals over now, customers continue to have bills piling up, without flexible options to pay them.
3 ways investing in collection software can increase your ROI exponentially
With the amount of past-due accounts on the rise and a lack of ability to increase collection team workforces, automating the process can help in three ways:
Gaining insights helps improve your collection strategy

Collection software can help you record all digital interactions with past-due customers, building a better picture of your customers and their behaviour. This also assists with segmenting to help reach out with more precision based on their specific needs and wants.
Those insights can be used to create more effective personalized strategies for future engagement with your customers. For example, using collection software analytics can uncover when customers are more likely to open emails based on their history, so payment reminders can be sent out when they're most likely to be opened and paid.
Flexible options encourage payments

Being bound by only being able to contact customers during government regulated business hours or by mail hinders your ability to collect payments efficiently. By digitizing your process, you can collect past-due amounts 24/7 through self-service options. For example, by offering a self-service payment portal and encouraging online payments, you can get your money faster and increase self-cure rates.
Additionally, allowing your customers unable to pay in full set up online arrangements, can help your company map out when to expect their past-due accounts to be settled.
Automating the process reduces OPEX

Reducing operational costs by having fewer agent-hours spent on tasks that could be automated. Collection software encompasses efficient functions that lower human error risk, resulting in less time and money spent fixing human errors. The increased productivity from agents focusing on more pertinent tasks can help your company generate additional income.
Investing in collection software is proven to help minimize losses. To get an idea of how much you may be losing now, use our loss calculator, and digitally adapt before past-due accounts continue to increase and overwhelm collection teams. Increasing your ROI is more than just about collecting money; it's about making the recovery experience better for your company and its customers.
Chris Miljanovski is a Content Specialist at Lexop. Having a passion for content creation, Chris has over five years of experience writing blogs, social posts, and optimizing messaging for a multitude of brands. With his expertise in creating content for start-ups in the tech industry, he has helped companies build awareness and generate leads.