Moving towards a customer-centric mindset is fundamental to providing a seamless customer experience (CX). That is, ensuring that the quality of the service provided to customers stays consistent regardless of the standing of their account.
It costs between five and 25 times more to acquire a new customer than to retain and satisfy an existing one. And, as our latest study on consumer trends in collections demonstrates, 71% of customers unsatisfied with their past-due experience would switch to the competition.
Can you blame them?
Newton's third law states that every action has an equal and opposite reaction. Treat your past-due customers poorly, and they will most certainly return the favor by disengaging with your brand.
Churn isn't the only cost of poor past-due CX. Teams who are "too busy" to innovate may not be the most productive. For instance, managers who haven't embarked on the digital transformation might still rely on traditional dunning (letter and phone calls) and manual operations.
The result — low returns and unhappy customers.
How Lexop helps companies provide a better past-due CX
According to our study, 65% of US consumers prefer hearing about their past-due amounts via email and SMS. With Lexop, companies can send hyper-personalized digital notifications that match this trend.
Digital dunning campaigns can be sent in real-time to thousands of customers using customizable templates. Email notifications direct customers to a self-service portal that doesn't require them to login.
Moreover, companies can integrate SMS alerts to kindly nudge customers that their bill is past-due, while inviting them to check their email to securely pay.
Lexop helps companies deliver a straightforward and secure process to self-cure. As a digital-first solution, Lexop makes it convenient for past-due customers to settle their accounts without agent intervention.
Below we present an overview of what companies were doing before and how much they gained after successfully improving their past-due customer experience with Lexop.
Before and after Lexop: from low team productivity and high write-offs to significant ROI and self-cure rate
Prior to Lexop, most of our clients had a growing volume of past-due accounts and limited resources to scale capacity.
For a long time, collection operations were a small team or department with a modest budget that didn't undergo much change. Most of the work was done manually, and traditional dunning went unchallenged despite the underwhelming returns.
Somehow, neither the acceleration of the digital transformation nor newer CX initiatives made it fully to that corner of accounts receivables.
The lack of workforce and IT resources forced companies to increase the number of write-offs. This left several past-due accounts in the hands of collection agencies, hurting the customer relationship to the point of no return.
As such, these companies were at a competitive disadvantage and had to innovate fast. They sought a digital-first solution that's quick to implement, easy to use, and scales to fit their needs.
Lexop's white-label collections software provided companies with what they needed to achieve their goals.
In the words of Danny Goode, Senior Credit Risk Analyst at Videotron, a Canadian leader in telecommunications:
"Among the many features provided, tracking interactions in real-time is an indispensable asset for the preparation of our performance reports. We immediately know how many emails were sent, opened, and read, and if payments or payment attempts were made. We can then quickly contact clients who want to pay but don't have the immediate means to do so and offer them payment alternatives adapted to their needs."
Videotron recorded the following results after six months of implementing Lexop:
27%increase in self-cure rate
11% decrease in customer accounts sent to collection agencies
10% increase in monthly savings related to collection activities
(Refer to the case study for more details — Videotron avoids significant losses in revenue with the help of Lexop)
Auto All Star, a leader in the lending space for car rental, saved $10K in registered mail and shipping costs with proof of delivery. They were able to leverage the power of SMS notifications as explained Louis Dufour, Business Analyst at Auto All Star:
"We didn't know how valuable SMS customer reminders could be. They allowed us to optimize our campaigns and get the attention of several customers to make payments toward their debt"
Auto All Star also reported a 200% ROI since adopting Lexop — read the case study here to see how.
Alterfina, which is in the field of alternative financing, had a 25% reduction in write-offs and 13x ROI. As well, they received late payments within three days after sending a notification.
They were particularly pleased with the effect Lexop's self-service portal had on their customers. In the words of Serge Sigouin, General Manager at Alterfina, "Customers appreciate having the autonomy to manage their late payments themselves through the portal." (Go to the case study to learn more — Alterfina has greater recovery on accounts that are over 90 days old by using Lexop)
Conclusion
There you have it. Customer experience is an area that needs constant nurturing and care — especially in collections!
With a greater focus on providing a seamless past-due customer experience, companies will realize a positive impact on retention, higher team productivity, and increased revenue growth.
Companies across different industries use Lexop to deliver a better, more personalized experience for their past-due customers. If you'd like advice from our experts, feel free to talk to us.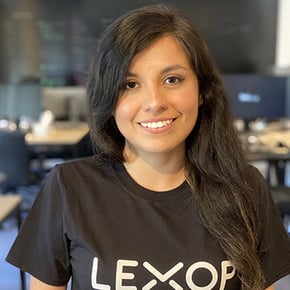 Paula Monroy
Paula is Communications Specialist at Lexop. With a formal background in urban planning and creative writing, Paula writes about pretty much anything.