Not having embarked on the digital transformation drains resources for no apparent reason. Your accounting functions, for example, may slow down due to the lack of a streamlined procedure for collections.
Finding collections software that meets consumers' current payment and communication preferences is a winning step to a streamlined procedure for collections. Instead of focusing on issuing dunning letters by regular mail as soon as an account becomes past-due, reach out digitally via email and/or SMS.
In parallel, collections software facilitates quickly reaching out to your ever-increasing volume of past-due customers. Collect without the need for agent intervention. Devise tailored outreach strategies based on a wide range of templates. Implement different strategies, and see the results in real-time.
Alternatively, customer satisfaction might increase. Software is a tool that empowers customers at risk of early delinquency to self-cure without agent intervention. As such, both the user experience (UX) and user interface (UI) of past-due customers and staff dealing with accounts receivable (AR) reconciliation improve.
Not having a collections software means missing out on:
Cost-effectiveness
Scalability
Customer experience (CX) improvement

Just try to imagine tackling any of those three without automation and computers. Especially with varying volumes of past-due accounts, software takes the pain out of the collections process.
1. Cost-effectiveness
Relying only on manual labor to handle your increasing collection follow‐up activity is tiresome and lengthy. Instead, get paid faster with a cost-effective digital solution.
The right kind of software can profoundly impact your company's bottom line. Take SaaS, for example. Cloud-based software incurs 'lower costs'. Since it usually resides in a shared (or multi-tenant) environment, the software license cost is low compared with the traditional model.
Besides, there is no need to develop this system in-house. There are so many out-of-the-box solutions that will save you the ongoing costs of maintaining infrastructure and data centers in-house. Vikas Srivastava, chief revenue officer at FX cloud solution provider Integral, estimates that using external solutions (as opposed to in-house alternatives) can reduce a company's tech spend by up to 80%. Download our ebook,
SaaS is incredibly flexible. Only the core functions of what your provider offers are likely to be a compulsory part of the purchase. Anything else you need and do not need can be developed or removed with little effort. You're also not locked into a costly, long-term project with no end in sight. Instead, benefit from a cost-effective, flexible solution built with your business in mind.
2. Scalability
When the volume of past-due accounts is high, increasing your collections efforts seems unavoidable. You could ask your agents to do longer shifts or work over the weekend. You could also hire more agents. However, these over-the-counter solutions are both ineffective and insufficient. The truth is that, without collections software, scaling up gets complicated.
Software scales significantly better than otherwise traditional collection methods. This is mainly so when it leverages the power of automation to contact thousands of past-due customers at once and enable them to self-cure effortlessly. And as it automatically produces customer data to analyze for the optimized segmentation of past-due customers.
Particularly cloud-based software resides in cloud environments that are scalable and have integrations with other SaaS offerings. Unlike the traditional model, there's no need to buy another server or software. Just enable a new SaaS offering, and in terms of server capacity planning, the SaaS provider will take care of that. Additionally, you'll have the flexibility to scale your SaaS use up and down according to your needs.
Scalability is simply effortless with cloud-based collections software. You can seamlessly handle all changes, upgrades, and overhauls within a few clicks.
3. CX improvement
As the PWC (2018) showed years ago, consumers require an appealing, frictionless, and enjoyable customer experience.
By implementing a collections software equipped with a secure, user-friendly platform and flexible payment options, companies can create a seamless customer experience and maintain a better long-term relationship with all customers—despite how much they owe you. User experience (UX) and user interface (UI) design come into play.
Increased focus on UX/UI will significantly improve the experience of past-due customers with your brand. Instead of fracturing their customer journey for being late on a payment, you'll enable them to self-serve conveniently without the hassle of waiting on the phone to speak with an agent. Not only will you accelerate your time-to-repayment and transform your repayment rates, but you'll also ultimately nurture brand loyalty.
Having a poor UX/UI isn't just disappointing. Your customers won't adopt the tool if it's overly complex and lengthy to complete a transaction. To avoid this, make sure that the software you buy offers a platform designed with the end-user in mind. The simpler the steps are to make a payment via the platform, the better. For example, not logging in to use the platform is way more convenient than making it mandatory. You'd be removing an unnecessary step that could add friction into the repayment process without forgoing data security and privacy.
Learn more
There you have it. By not having collections software to help your team outperform past quarters, you're missing out on the cost-effectiveness, scalability, and improved CX. The time to act is now. Recover what you're owed as quickly and cost-effectively as possible. Shift to a digital-first approach with the right software.
Lexop has embraced the advantages of SaaS that solve digital collection needs for our clients. Our software helps companies retain past-due customers by facilitating payment and empowering them to self-serve. It's quick to implement, easy to use, and scales to fit your needs.
If you'd like advice from our experts, feel free to talk to us.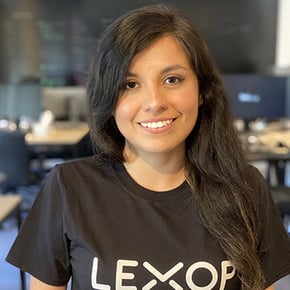 Paula Monroy
Paula is Communications Specialist at Lexop. With a formal background in urban planning and creative writing, Paula writes about pretty much anything.