Tax season is like winter holidays in collections because it's known for being the busiest time of the year for paying off debt. Indeed, it's a great time to recover from overdue accounts. Consumers are more receptive to using their money wisely with more cash flow due to their tax returns. In 2020, Canada's average amount per tax return was CA$1,895 and US$2,827 in the US. Past-due customers might use this refund to settle late bills, which results in higher overall collection rates. According to a 2021 survey by the National Retail Federation and Prosper Insights & Analytics, nearly 32% of respondents said they planned to use their tax refund to pay past-due amounts.
For this reason, it is imperative not to leave any opportunity for successful collections on the table. If you don't already have a digital collections strategy in place, here are three tactics that can help you make the most of the tax season:
1. Forecast collection trends
Planning is everything, and establishing clear expectations can keep your strategy lean and focused. Analyze historical data to estimate how much return on investment to expect. You can do so based on collection trends from previous years. Try not to prioritize quantitative over qualitative data. The number of matters, calls made, and repayment arrangements won't draw you the whole picture. Use readily available real-time scorecards and KPI matrices for increased optimization.
Forecasting will prepare your collections department for the demands of the tax season. Most engagement tools used in digital collections will provide you with additional behavioral data to implement in your analysis. After all, intelligent business decisions are data-driven nowadays.
2. Improve your communication
Successful collections during tax season depend on how well a company communicates with its past-due customers. Effective communication is vital to sustaining positive relationships with past-due customers because it can encourage them to use some or all of their tax refund money to pay you back. As such, maximizing collection efforts during tax season shouldn't come at the cost of consumer experience. Agent frustration from high call volumes and hectic working hours can be reduced or entirely avoided with a self-service platform.
Leveraging the power of technology will enable you to offer great payment options that past-due customers can afford, and reach them when and where they are. Instead of pressing to pay you right then and there, offering them the convenience to quickly initiate and resolve their past-due bills through a white-labeled payment portal will build trust in your brand.
3. Be persistent
As Bill Bradley, an American politician and former professional basketball player, once said, "Ambition is the path to success. Persistence is the vehicle you arrive in." And persistence is a critical element behind successful collection. Since tax returns may or may not be enough to cover the amount owed to you, having an organized, well-managed, and ongoing communication plan doesn't guarantee ultimate results. If you are not maintaining regular contact, your past-due customer can use the tax-return money for something other than paying you.
Often, companies do not have the time to properly develop communication skills aligned with the goals they hope to achieve for successful collection. The adoption of collection software can have the most significant impact here. A digital tool that enhances your ability to reach out and allows past-due customers to self-cure can also be a source of constant contact and building relationships to ensure mutual success.
Trust Lexop to succeed this tax season
Providing a compassionate and accessible digital collections strategy this tax season can bring great results for your company and the people you serve. Lexop can help you automate the recovery of past-due accounts in a faster, better, and cost-efficient way.
We've helped many mid-and large enterprises transform their payment collection strategies in ways that attain high ROI while also increasing customer retention rates. Reach out to our team to get started today!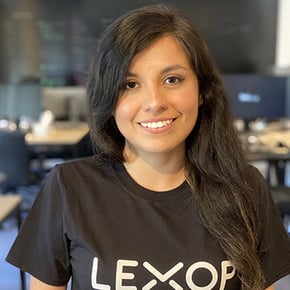 Paula Monroy
Paula is Communications Specialist at Lexop. With a formal background in urban planning and creative writing, Paula writes about pretty much anything.